Network Providing is an efficient, electronic solution for responding to VOE requests! Handling your employment verifications electronically through Xchange will streamline your process by allowing you to respond to requests quicker and by keeping a clear record of your responses for compliance purposes.


Becoming a network provider is a free upgrade that can be added to your Tenstreet dashboard. Contact your account management team to get set up. Not a Tenstreet enterprise client? That's ok! You can still be a Network Provider for free. Contact us to get set up.
If you want a preview of the benefits of Network Providing, or you're already set up (congrats!) this article is for you.
Learn how to process a VOE as a Network Provider:

View this short walk-through of network providing: Network Providing Overview or read through the steps here:
Step #1 - As a network provider, when another company requests an electronic employment verification for a driver, you (and any other specified users) will receive a request notification email. You can respond to this request by clicking the Provide button and logging into your Tenstreet dashboard.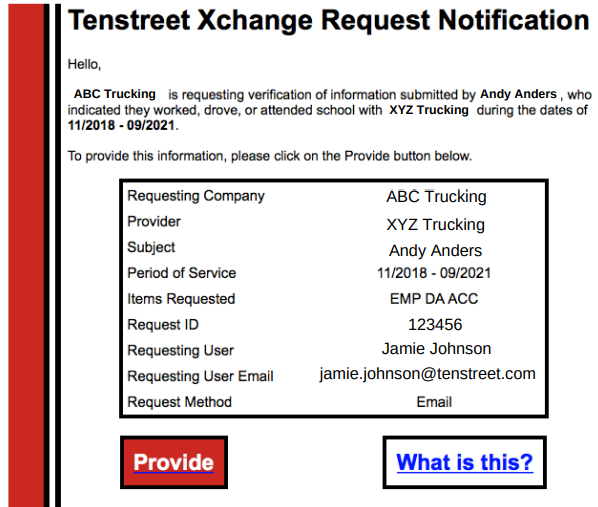 Step #2 - Once you have logged into the Tenstreet dashboard, select the Xchange option on the top menu.
​
​​
Step #3 In your Tenstreet Xchange dashboard, there will be two tabs: Provide a Response and Authorize a Response. 
​
​​
The Provide a Response tab is where new requests (with no stored response) will land. The request will need to be filled in and submitted back to the requesting company after the release is reviewed. View more detailed instructions about this process here.
The Authorize a Response tab is where requests will land if there is already a stored response on file in the system. To respond, you'll simply view the release and authorize the information on file be submitted back to the requesting company, eliminating the need for manual data entry. View more detailed instructions about this process here.
Once you've submitted your response, the requestor will automatically receive an email from Tenstreet like this:

Once set up as a network provider, the functionality outlined above will be added to your account and your company will be listed in the Tenstreet public directory with a Network method.
Related articles:
How do I get carriers to stop faxing and start electronically requesting previous employment verifications?